The GDPR (General Data Protection Regulation) is an EU-wide privacy and data protection law that gives individuals more control over their personal data. It places certain obligations on businesses that process information of individuals.
We embrace these changes, and have made a number of updates to our Privacy Policy, to comply with the transparency requirements under GDPR. We have also taken this opportunity to implement GDPR controls as our baseline standard for all our operations, worldwide.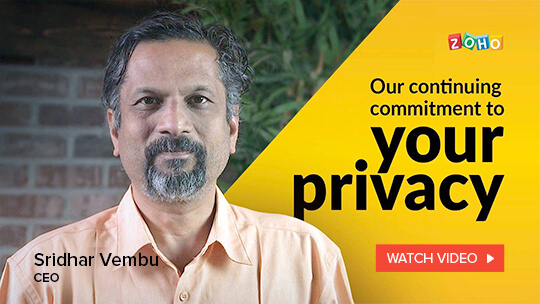 The new Privacy Policy will be effective from May 25, 2018.
We have completely rewritten our Privacy Policy to provide more transparency and clarity about our practices. We have become stricter with our stand on privacy. To make it easier for you, we have two versions of our Privacy Policy: a short summary and a longer legally binding version addressing all scenarios in detail. We've put in a lot of effort in cutting the legalese and keeping the language simple and direct as much as possible.
Data Processing Addendum (DPA):
If you are the organization administrator and would like to sign a DPA with us for your organization, please send an email to
gdpr-compliance@zohocorp.com
Certifications:
Zoho Corporation has certified its compliance with the EU-U.S. Privacy Shield Framework, with respect to transfer of data, and meeting the industry standards for ISO 27001 and SOC 2 Type II. This ensures the protection of all users and customer data when using Zoho Services.
For a detailed information on our GDPR efforts, please click here.
If you have any questions or concerns, please reach out to us at privacy@zohocorp.com or just reply to this email.
Thanks,
The Zoho Privacy Team